The Taihu Talent Summit 2020 kicked off in Wuxi, East China's Jiangsu province on Aug 5, gathering officials, experts, and renowned entrepreneurs to explore industry development and showcase the talent-friendly environment in Wuxi.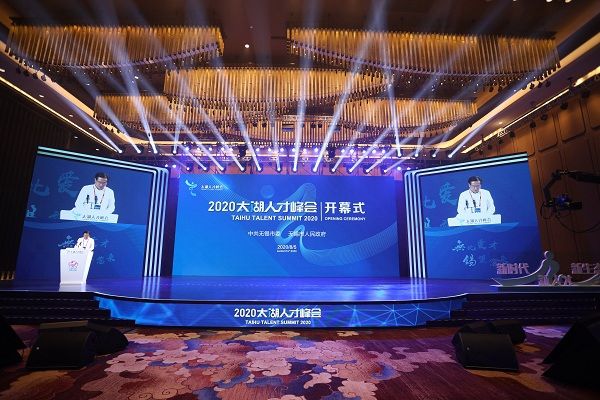 The opening ceremony of the Wuxi Taihu Talent Summit takes place in Nianhuawan scenic spot on Aug 5. [Photo provided to chinadaily.com.cn]
The event, which was known as the Wuxi Conference of Talent and Innovation for three years, has been renamed the Wuxi Taihu Talent Summit in an attempt to boost the event's influence. At the summit, prominent individuals and teams listed in this year's Taihu Talent Project were each granted a considerable amount of prize money.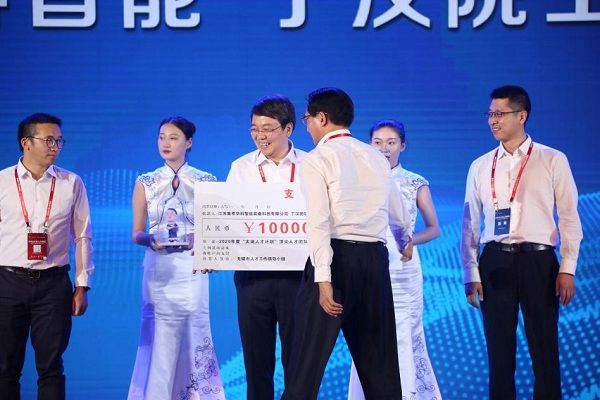 Ding Han, member of the Chinese Academy of Sciences, and his team from the Wuxi Research Institute of Huazhong University of Science and Technology receive a check for 100 million yuan ($14.39 million). [Photo provided to chinadaily.com.cn]
The Wuxi government has always seen human resources as an essential resource to support development and a fundamental strength for any city. Serving as a communication platform, the event gathered the party secretaries of Wuxi's six districts and two county-level cities, who took turns giving one-minute presentations to promote both the business and natural environment of their jurisdictions.
In addition, a school-enterprise cooperation alliance of internet of things and intelligent manufacturing was inaugurated and a group of key innovation platforms were launched.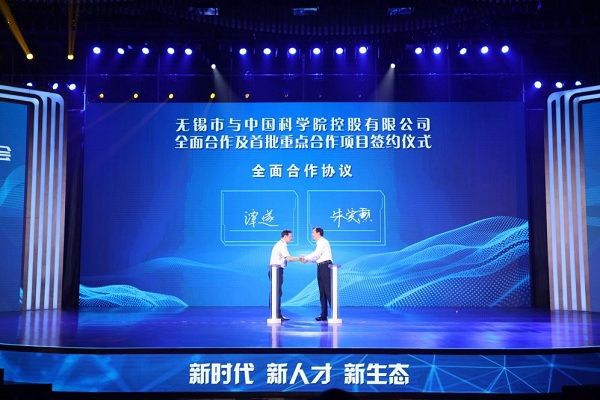 Cooperation projects between Wuxi and the Chinese Academy of Sciences Holdings Co, Ltd. are signed into effect. [Photo provided to chinadaily.com.cn]
In addition to the theme summit, the Taihu Talent Summit 2020 also includes seven main activities focusing on talent and innovation, which have demonstrated Wuxi's sincerity and determination in seeking talented individuals and created an image of confidence, openness, and inclusiveness.